The course director of the acting degree taken by Paul Mescal has said he is "enormously proud" of the Irishman's subtle acting style which has grabbed Hollywood's attention.
Loughlin Deegan said Mescal portrays his characters in a way that "isn't showy, isn't demonstrative", but resonates more with people as a result – earning him a best actor Oscar nomination at the age of 27.
"When I went to see him in Aftersun, I thought what was so wonderful about his performance was that he did everything he needed to do and no more. It was a very egoless performance, I thought," Mr Deegan told the PA news agency.
"It was a performance that was emotionally very finely calibrated, and very emotionally truthful.
"I think Paul's work is demonstrating a real confidence in that regard, actually – there's nothing showy about the work, it's about just basically honouring the truthful reality of the circumstance the character finds themselves in."
Mr Deegan, who is the director of The Lir drama school and the course director of its acting degree taken by Mescal, said the training the Kildare man received helped emphasise that nuanced style of acting.
"He's making very informed but subtle choices about the vocal reality of the character and the physical life of the character," he said.
"So when I see him in Aftersun, I'm often able to identify how Paul has used the training he received in The Lir to determine where in his body the character is carrying tension as a result of his mental health challenges, and the impact that's having on him physically."
Paul Mescal on challenging everything you think you know about him and the power of taking up creative space when filming his Oscar-nominated role in 'Aftersun.' (EXCLUSIVE) #Oscars95https://t.co/kE2DWjvlO5

— The Academy (@TheAcademy) March 1, 2023
Mescal was first drawn to acting after taking part in his secondary school's production of The Phantom Of The Opera.
His mother Dearbhla – who said she was folding the washing due to nerves as the Oscar nominations were announced – will accompany her son to the Academy Awards in Los Angeles on March 12.
He is among the plethora of Irish talent nominated for an Academy Award this year. Dublin's Colin Farrell has also been nominated for the best actor gong for his role in The Banshees Of Inisherin.
Last month, Irish stars Barry Keoghan and Kerry Condon picked up Baftas for their supporting roles in the same film.
Mr Deegan said the number of Irish Oscar nominees is not "a random collection of talented individuals who emerged together at the same time".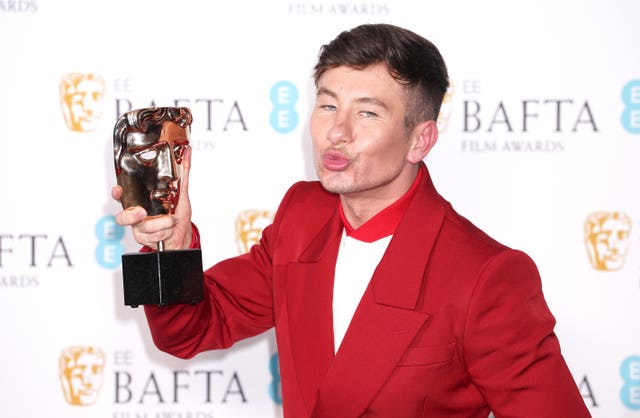 "The number of nominations are very significant, but not a huge surprise," he said.
"There's been a sense that Irish TV drama and film has been operating at a very, very high level, increasingly working internationally in producing work to a very high international standard for some time now.
"Success like this doesn't happen overnight, it happens because of policy, because of government intervention, because of sustained investment.
"What this outcome will hopefully deliver is a proper realisation within the political class that Ireland has a unique asset in terms of its storytelling ability and in terms of the artistic output of this country, and how high above our weight we work."
He said that level of planning benefits young actors like Mescal so they are available when parts arise like that of Connell in hit TV series Normal People.
"We have the perfect actor for the part who's really talented, really well trained, ready to really take that opportunity, make the most of it, and deliver a really beautiful performance and demonstrate his ability to be a lead actor in feature films," he said.