In 20 years of long-haul travel, I've only had the chance to travel two airlines, British Airways and American Airlines. On a recent trip to Ireland, I had the opportunity to fly Aer Lingus. The main reasons were that there are two direct flights from Chicago to Dublin a day; they are inexpensive (my employer was paying for it), and they were reliable.
So, how was it?
It was fine.
I arrived at the airport a few hours early, as I usually do. I wanted to ask at the desk if I could upgrade to business class cheaply. It turns out; I couldn't. It was the full business class fare (several thousand dollars). But the agent said she could put me in a better seat in economy, so I trusted her to do that. I did not need to check a bag, as I was traveling carry-on only (I like to travel light, and it was only a ten-day trip).
As I waited in the gate area, I was surprised to see that there were not that many people waiting for the flight. I wondered if it was just because the gate area was small. I was slightly annoyed by the gate ORD put the plane at – the windows were frosted glass, and I couldn't get a picture of the plane, something I always try to do.
We boarded on time, and quickly. And then I learned my the gate area was so empty: the flight was pretty empty. I would say, by the time we took off, the flight was half-full. It turns out the check-in agent, despite me telling her I needed an aisle seat (I'm claustrophobic), put me in the middle of the middle row of 4 seats. I begged a flight attendant to move me, and she did to an aisle seat a few rows up.
Eventually, I learned why she didn't care – most of the seats in this part of economy were empty. Aer Lingus has a 2-4-2 configuration on its A330's. I was very pleased to see that as we pushed back, that in my little row of two, I was completely alone. I was able to stretch out. It was almost like being in business class! I was even able to watch out the window.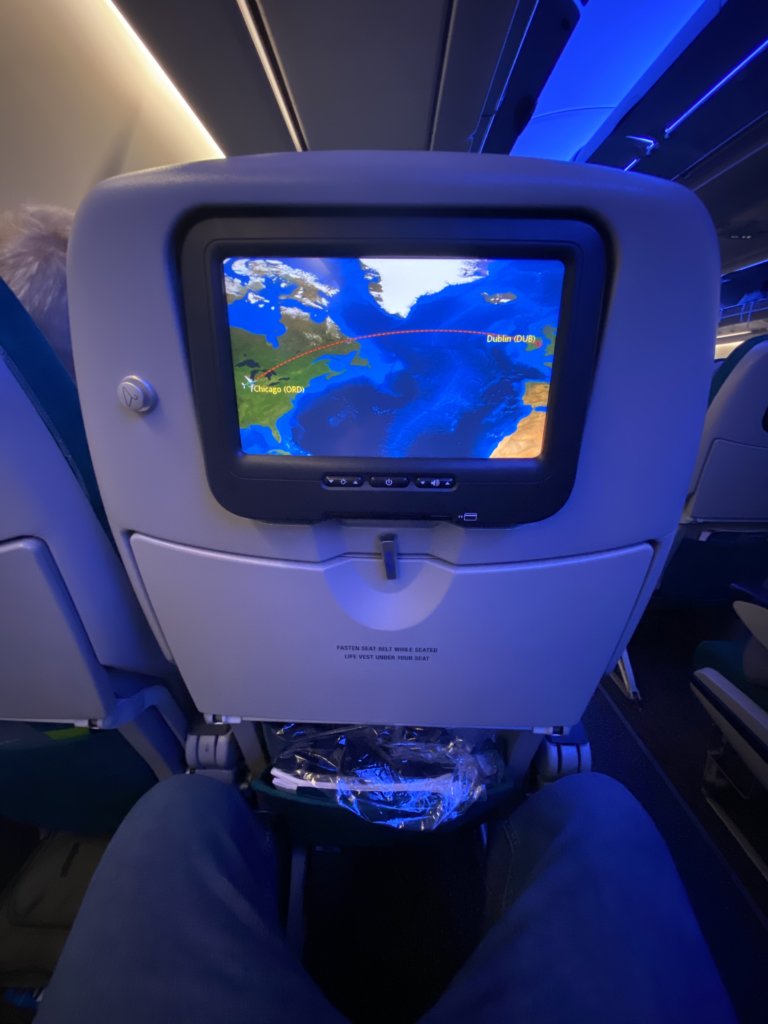 We took off on time. I liked the cabin; the LED lighting created a nice atmosphere, and the cabin was very comfortable. There was a drinks service and then dinner. The food, frankly, was terrible. So I'm glad I had already eaten in the terminal before boarding (I always do, it's a hedge knowing airplane food will probably suck).
The inflight entertainment system was slick, and there were lots of options, it was neat to see many' native' Irish options. As I was going to be getting into a rental car upon landing and driving, I needed to get some sleep. So, once dinner was over, and the lights were dimmed, I tried to get some sleep. I have a very difficult time sleeping sitting up, but I managed to get a few hours of sleep, not much but enough.
I woke up about ninety minutes from landing – the flights from Chicago to Dublin are shorter than the ORD-LHR flights I'm used to. And we were arriving earlier than scheduled, thanks tailwind!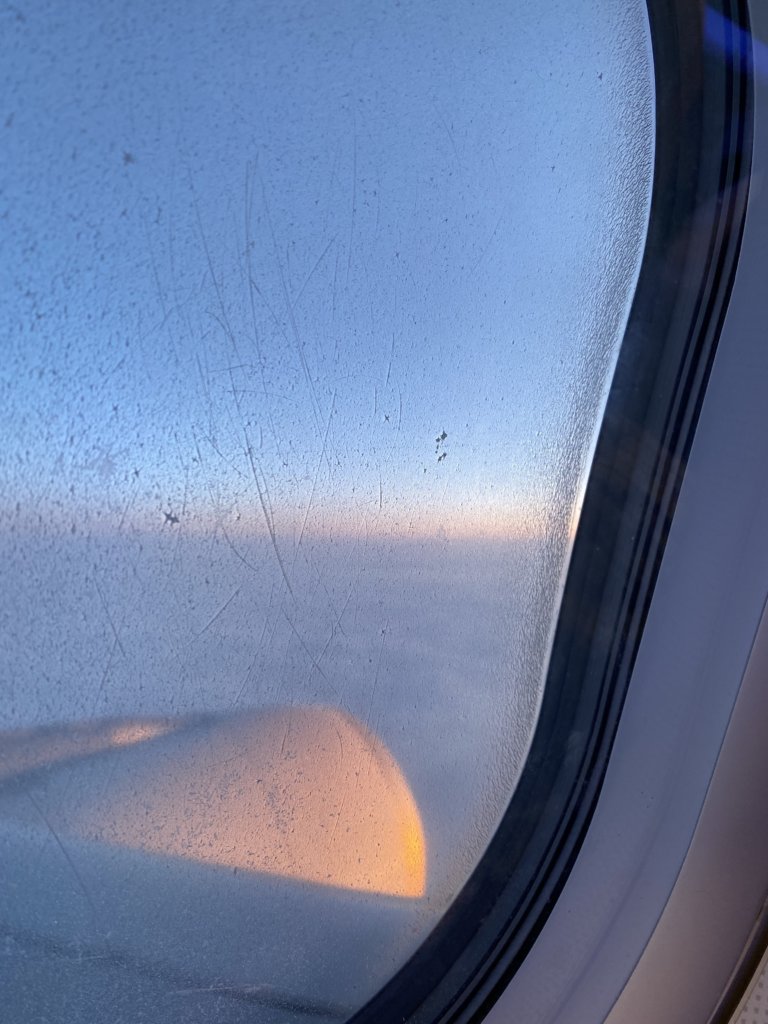 I was offered a breakfast egg sandwich thing, which was somewhat edible, and I had a cup of tea. We landed smoothly and taxied to the gate. We arrived after the morning transatlantic rush, so the airport itself felt very empty and I practically walked right through Irish immigration.
Overall, the flight was very smooth; we didn't have any turbulence. It was quick; we arrived early. The service was all right, the cabin crew competent and kind. The food was bad, but I expected that. It definitely felt like more of a 'budget' experience compared to British Airways, but I really have nothing to complain about. I had the row to myself, and the flight was cheap, and we arrived where we wanted to go.
The Return Flight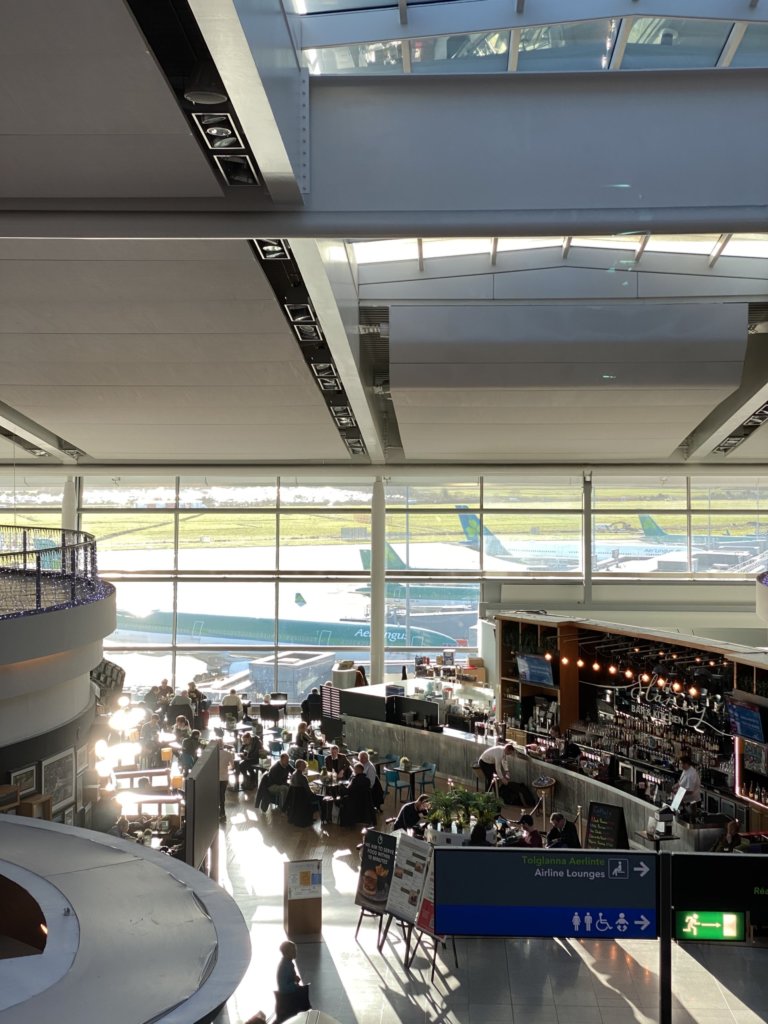 The perk of flying Aer Lingus is that when you come home from Dublin Airport, you clear US Customs and Border Patrol before departing. As CBP at ORD is usually terrible, I was looking forward to giving this a test.
US passengers basically go to their own concourse, separate from all the other flights. Before you enter, you go through security again. I had tried to buy Kinder Eggs for my kids at the duty-free, but they wouldn't sell them to me knowing they would be found at the '2nd security' and confiscated. I saw why when I got there – they check you and your bags again, it's a little less thorough than the airport security. It went relatively quickly.
There was no line at 'the border', and I was right through. A bit strange, to be honest. The feeling of essentially, from a legal standpoint, being on US soil while not actually being there.
The concourse, however, was small and there were practically no food options. It also got crowded with departure flights to the USA boarding every few minutes. Everything ran smoothly. I just found a seat near my gate and didn't move. I had tea and a snack.
Important tip for going through CPB at Dublin – eat before you go through. The food options in the main terminal are much better.
The flight boarded on time, and everything was smooth. I had an aisle seat again, but this time I was in the central rows. I hit the 'flight jackpot' again, and as we were about to push away, I discovered that the seat next to me would also be empty for my flight home! So, that was nice. This flight, overall, was fuller than my flight to Ireland, but there were still a lot of empty seats (I flew in the first week and third weeks of December, which is not a peak travel time).
I had the same entertainment options as I did on the way over. I did not partake in any of them. I had my laptop, and I was quite keen to watch the new season of The Expanse that had dropped while I was in Ireland. So, I did that. The entire flight. I managed to watch most of the 10 episode season, with my laptop dying with 20 minutes to go on the last episode right before we landed.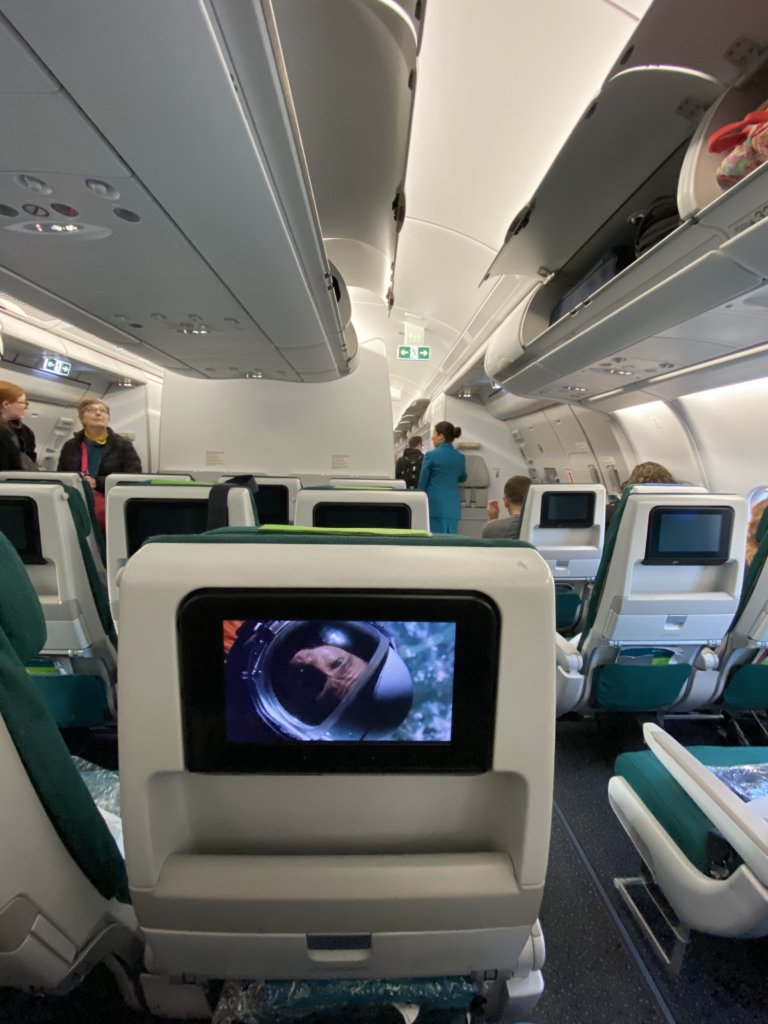 The food was just as dreadful as the flight over, but it was fine. I'd eaten before I got on the plane and I had brought snacks with me. I kept the route map on the in-flight screen above me. Kept my phone on the charger. It was all quite nice. The flight was smooth. I'd never flown on an A330 before this trip, and I quite liked it. The cabin was comfortable.
There were two drawbacks, however, both nothing to do with Aer Lingus. One, the woman in the seat in my row after the empty seat, had a cold. I did my best to stay out of her 'air space', and we didn't even talk, and when she got up, she would walk out the other side.
Yet, a few days after the flight, I still managed to get a cold. Drat.
The other thing was to do with the in-flight cell phone service Aer Lingus offers. When you turn your phone on in flight, there are two options, one is WiFi, which is rather expensive. The other is actual 3G cell service that lets you text and use your data service. Neither of these worked on my flight over. Assuming they wouldn't work on my return flight, I turned my phone on, to see if they would work.
What I didn't realize is that when the phone auto-connected in my pocket to the service, it began downloading a ton of data, mostly emails. And I missed the warning that the service sent me that the Aer Lingus cell network IS NOT part of my international roaming package with AT&T. I even got a 'high charge' warning text from my provider. I immediately turned off my phone and figured I'd worry about it alter.
Fast forward a few weeks later, I checked my phone bill, and I was charged $160 for this small mistake. Thankfully, I argued with my provider and was able to get it taken off the bill.
But for another Aer Lingus tip: TURN YOUR DATA ROAMING OFF while on an Aer Lingus flight or just keep your phone off.
The flight was smooth the whole way back to Chicago. It was, however, LONG, as western tracking flights usually are. We still managed to arrive early, though. I didn't mind the length; as I said, I was able to get most of my show watched.
We landed in Chicago and taxied to the international terminal. And then there was a strange experience. We were deplaned into the main International terminal area and guided to a special exit. I went down an escalator, and I was already in baggage claim (where my lovely family was waiting for me). No Customs and Border Patrol. No declarations. No massive lines. I just walked off the plane, and I was home.
Incredible.
I'm a diehard British Airways and Heathrow fan, but damn, I quite liked not having to go through CPB returning home. That's tempting enough to fly through Dublin when I go to London or Northern England.
Overall, I was very happy with my experience flying Aer Lingus, and I think I would happily fly them again, even if I was not going to Dublin. Their prices are often cheaper than the other options to Europe, so it's a great option. And Aer Lingus flies to most major European cities from Dublin, so you can go anywhere. Also, since their owned by the same company that owns British Airways, you collect Avios. You can also book Avios rewards flights on Aer Lingus (and their taxes and fees are much lower).
Flight info: AI124/125 – Airbus A330 both ways. The total cost was $659.92 for a round trip from ORD-DUB in early December. Disclaimer: I did not pay for my ticket; my employer did (this was a business trip).