Colin Farrell said Irish people are good at "supporting each other" and the "sense of civic duty" is strong in his native country.
The Hollywood actor, who was grew up in Dublin and lives in the US, has been nominated for an Oscar for his role in the dark comedy The Banshees Of Inisherin ahead of the upcoming Academy Awards in March.
The movie, written and directed by Martin McDonagh and filmed on location on the Aran Islands and Achill Island off the coast of Co Mayo, is set towards the end of the Irish Civil war in 1923 and shows a friendship falling apart between Farrell and Brendan Gleeson's characters.
Farrell told Variety: "No one country is the greatest in the world. Every country has its strengths and faults.
"But one thing the Irish do well is support each other; there is a sense of civic duty, looking out for each other." https://www.youtube.com/embed/jFPU2PGsuKU?feature=oembed
The 46-year-old actor was talking as he spoke about his work with Debra Ireland charity, which focuses on the genetic blistering condition epidermolysis bullosa (EB) – a disorder that causes the skin layers and internal body linings to blister and wound at the slightest touch.
He and his friend Emma Fogarty, who is an ambassador at the skin charity and lives with the condition also known as butterfly skin, said they saw "massive amounts" of money raised following his appearances on Irish talk shows during a period of "economic downturn".
He appeared on The Late Late Show in 2018 and on RTE Radio 1's Ray D'Arcy Show in 2020 with Ms Fogarty to raise funds for their work and also got a temporary butterfly tattoo to increase awareness for the charity.
Elsewhere, Farrell talked about his relationship with Dame Elizabeth Taylor, the Hollywood star who died in 2011 aged 79 and was known for performances in films such as 1961's Cleopatra when she played the Egyptian queen.
He called her a "consummate friend" who "made an art of friendship, of being there for people" and once chastised him for not talking to her in bad times.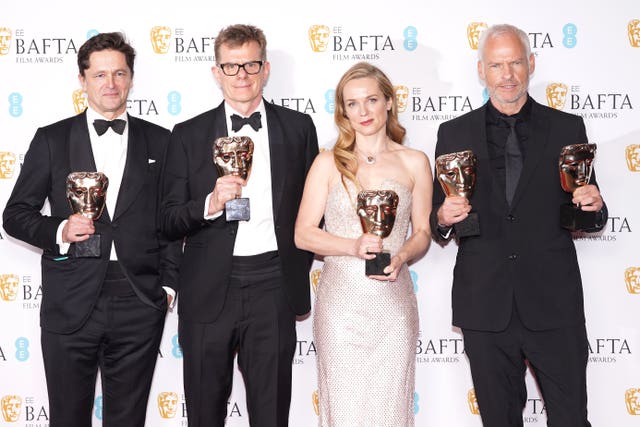 Farrell added: "It was a lesson in humility and we talked about extending that kind of friendship in a global way."
On his way to the prestigious Academy Awards, Farrell lost out to Austin Butler at the Bafta film awards last month as the American actor picked up the leading actor gong for Elvis, and Canadian-American Brendan Fraser who won outstanding performance by a male actor in a leading role at the Screen Actors Guild (SAG) awards.
Farrell did pick up a best actor for a musical/comedy motion picture prize at the Golden Globes in January.
His co-stars Barry Keoghan and Kerry Condon received the supporting actor and actress Bafta awards respectively, for their roles in the Irish film along with McDonagh for original screenplay.
Farrell will face off with Butler and Fraser along with Irish actor Paul Mescal for Aftersun and British actor Bill Nighy for Living at the Academy Awards.